This is a Step-by-Step Guide to change the pitch and re-tune MIDI notes live. This technique helps you to pitch MIDI in Ableton Live e.g. when using external MIDI controllers like MIDI keyboards or electronic drums. For example Ableton's Drum Rack presets are set to listen only to certain MIDI note pitches. To be able to quickly re-pitch MIDI you can make use of the "MIDI Note Tuner" Max for Live device.
---
Apply the MIDI Note Tuner M4L device in your Ableton Live set
After you bought the MIDI Note Tuner please install and save the Max for Live device in your User Library. You can now just drag and drop it on a MIDI track. It is very simple to detect the MIDI note pitch of your incoming external MIDI from your MIDI controller via the MIDI Monitor section.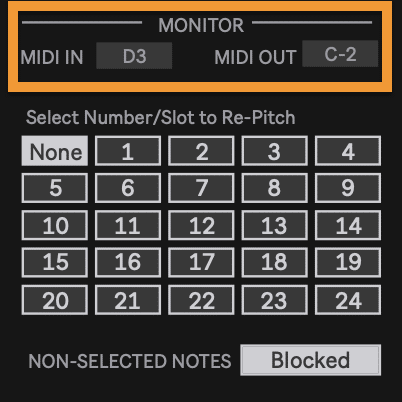 The quickest way to re-pitch MIDI would be to use some automatic detection of the current MIDI note from your MIDI controller. Just follow this steps:
Select a number and slot
hit or play your pad/bar on your MIDI controller
The slot you selected now is set to the incoming pitch. You are now able to change the outgoing pitch.




Create and Store custom pitched MIDI settings in Ableton Live
You are now able to create custom pitch setting for up to 24 different MIDI notes in one preset. There are various options to store and recall re-pitched MIDI notes presets:
drag and drop the device into your Ableton User Library. You can now pull this preset into other Ableton Live sets
you can store up to 10 different tuning presets in one MIDI Note Tuner Version 3 Max for Live device
How to store multiple pitch presets in Ableton Live
The MIDI note Tuner Version 3 includes a section for storing 10 presets within one device. You just need to select the preset number you want to save to and hit "Store". You can as well give presets a name.
When you are changing a pitch setting you will be notified and asked to save this change. A small red "Stored?" text box will appear to remind you that you made changes which you haven't stored yet.


Video Tutorial on how to re-tune MIDI notes via M4L
Please watch the video tutorial I made on MIDI pitch in Ableton Live below, The video will explain all steps on re-tuning MIDI notes quick and easy.