I thought it would be great to be able to set up text notes, text reminders and text cues when using Ableton Live's Arrangement View for live performances. The quickest and easiest way to set up text notes in Ableton is creating MIDI clips and just name those clips with the text you want to be shown.
How to set up the text notes in Ableton Live
It is easy to set up text notes. You just need to place the Text Notes Max for Live device on a MIDI track. Just create MIDI clips and change the names of those MIDI clips with the text.
How to create a MIDI clip in Ableton Live
You can create MIDI clips by selecting a time-area on the MIDI track and press ⌘/STRG + SHIFT + M. It is possible as well to right-click on the selected time-area and click on "Insert Empty MIDI CLIP".


Change colour and insert text for a MIDI Clip in Ableton Live
You can now select a color and put in your text notes via the "Rename" (⌘/STRG + R) function. Just right-click on the MIDI clip and select a color and the rename function. You are now able to type in some text notes.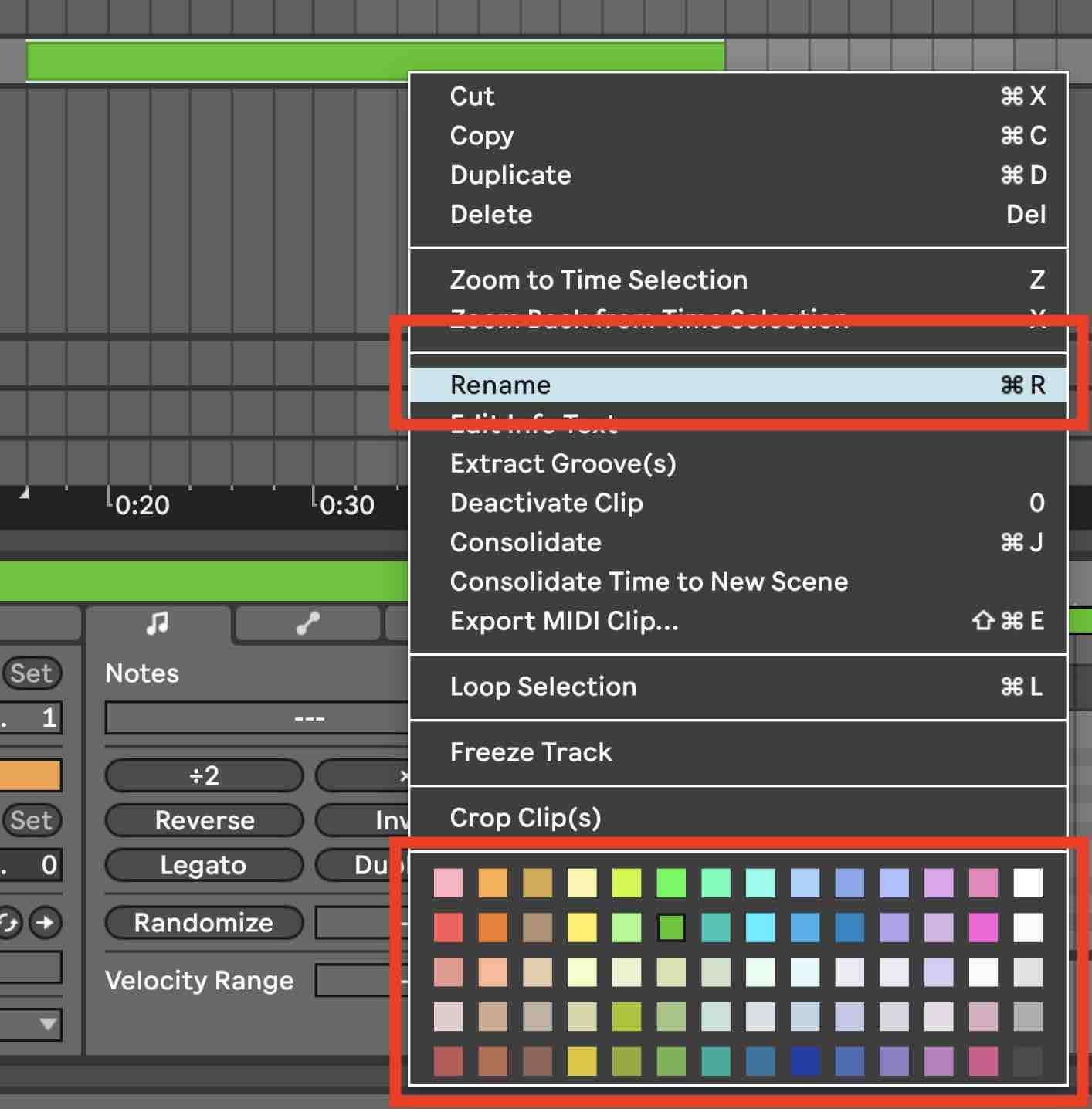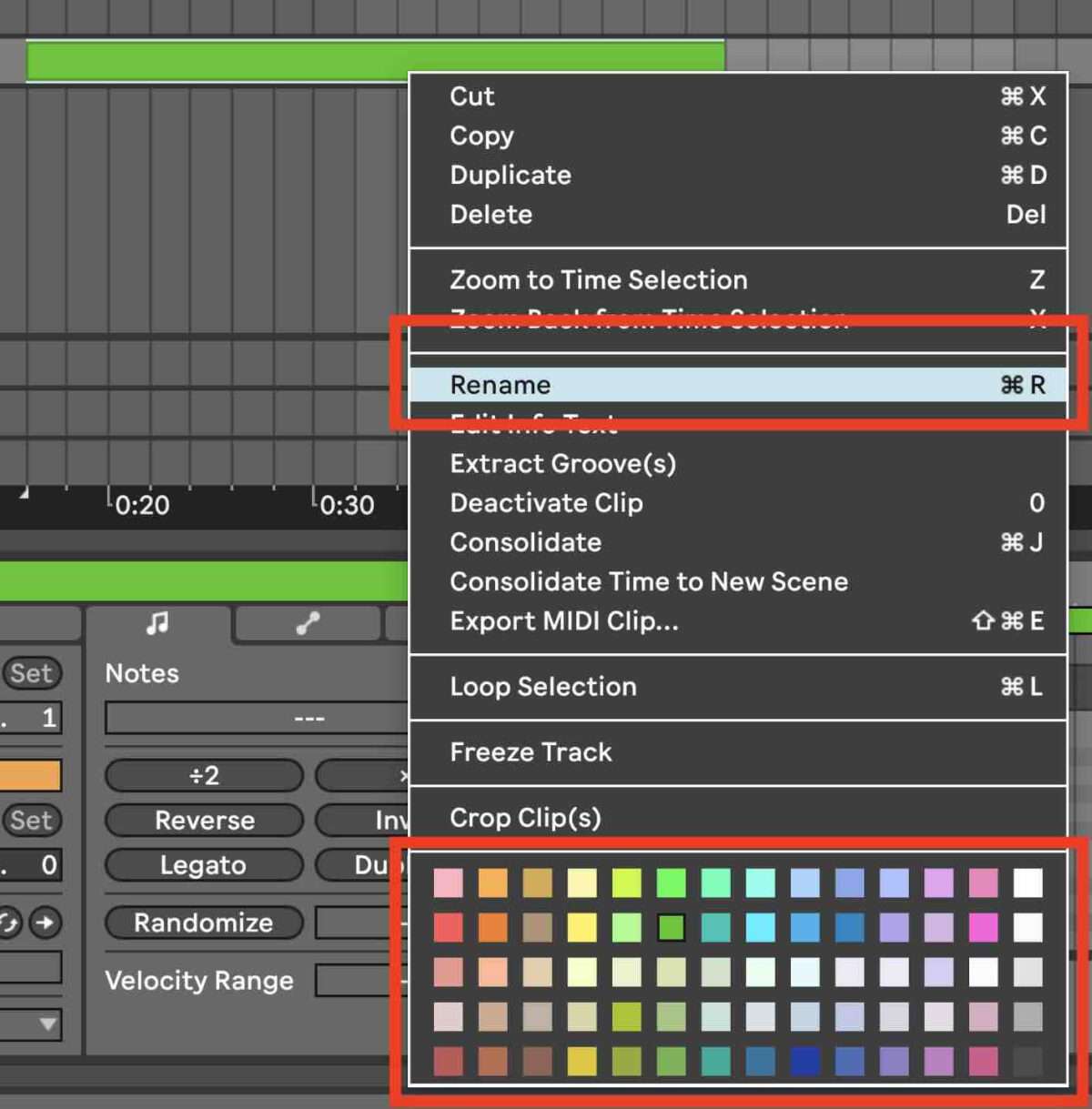 Update + "Refresh" for Ableton Notes
The device is collecting all the clips information. This applies to changes of positions, length, color and text of MIDI clips. There is no need to update after every change, just before you hit play you will need to click on the "Refresh" button once. When reloading the Ableton Live set this is happening automatically.
Open and position the text notes popup window
Just click on the OPEN button and place the popup window to the position you would like. To save this position you can click on "S". The position is now saved within the Ableton Live set. It will be open up on re-load. For automatic OPEN+CLOSE activate and click on the "Autom." button. When this is activated the PopUp window will automatically OPEN on MIDI clip start and CLOSE on MIDI clip end.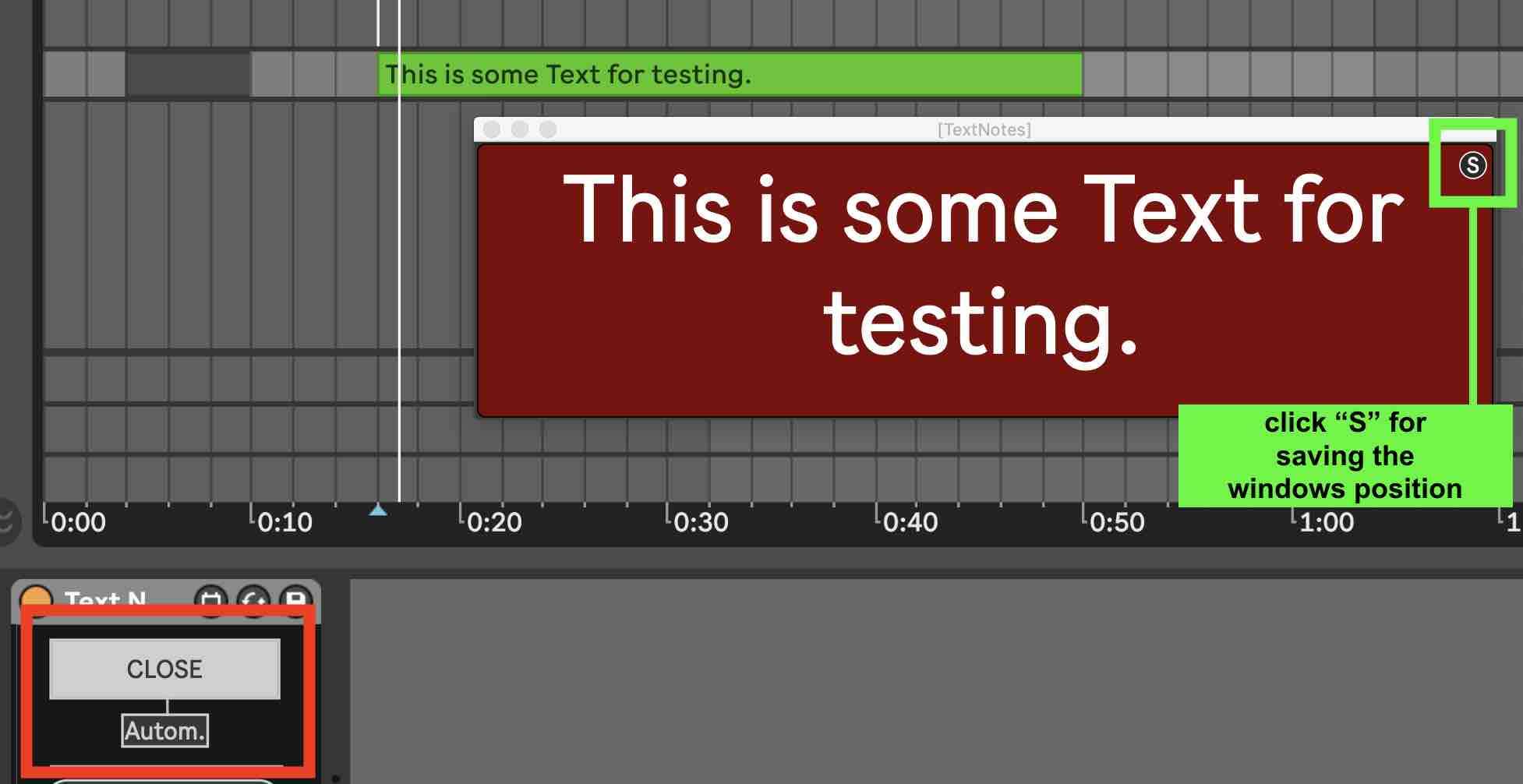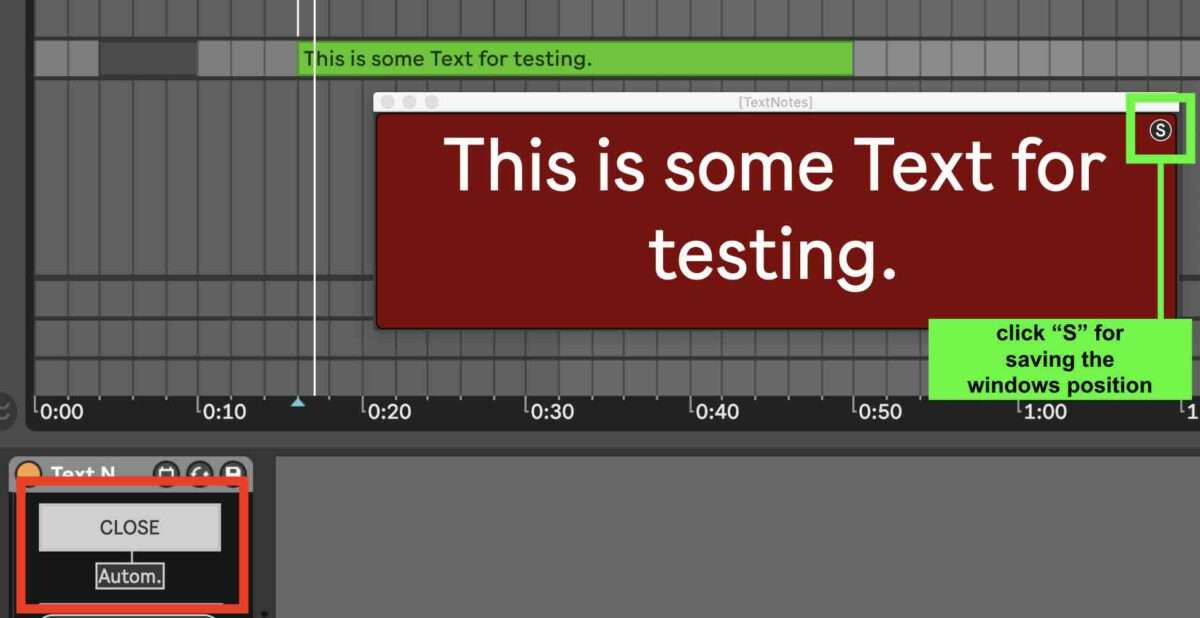 Colors – text colors, background colors and clip colors for notes in Ableton
You can open your computers system color picker to select colors for the text notes and background of the pop up window. Click on TEXT or on BG. You can activate "Autom." to have the background color taken from the MIDI clips color. This way you can set up a personal color coding system e.g. having cue text notes in Ableton Live sets always being red and 'less important' text reminders in a less pressing color.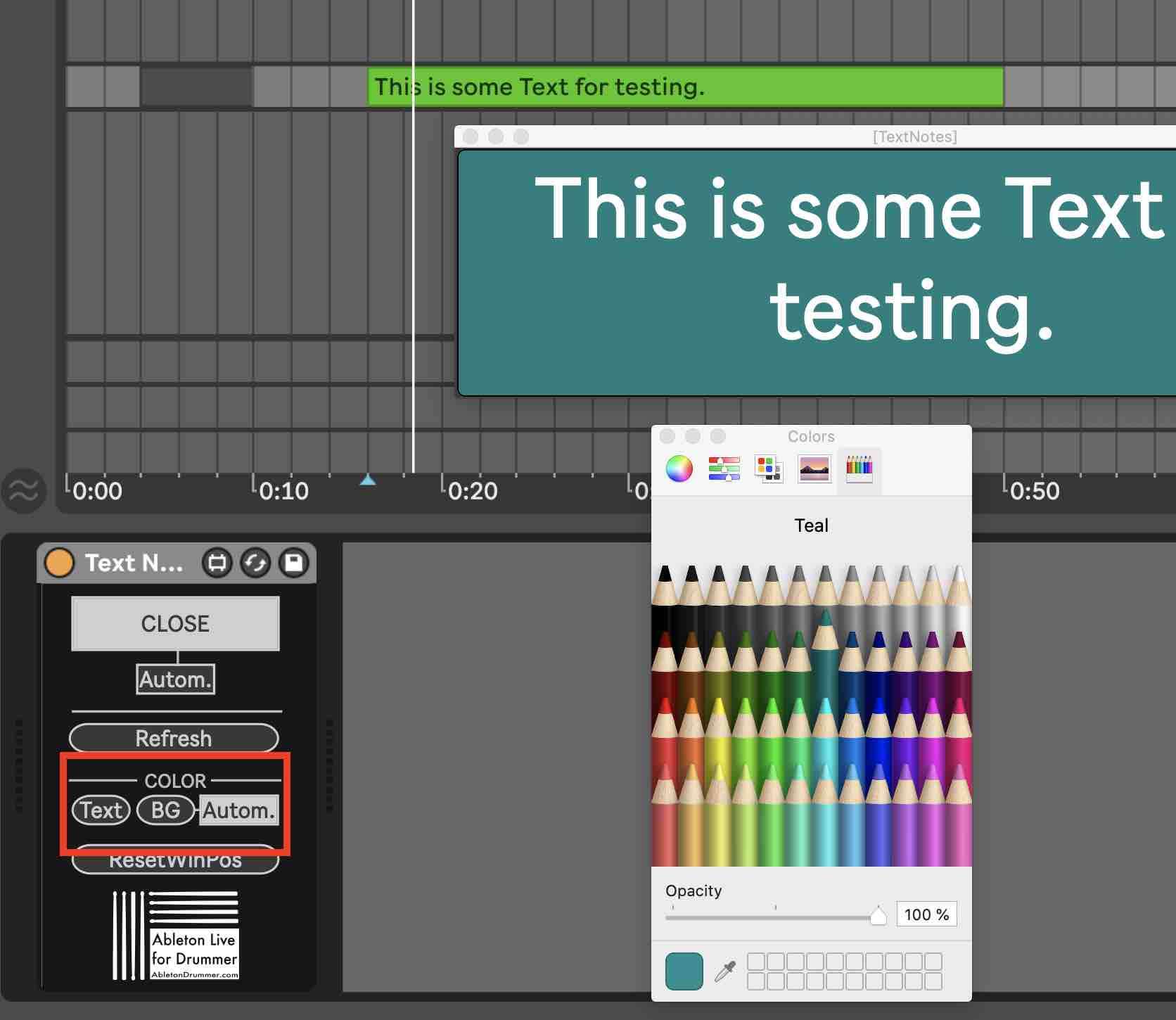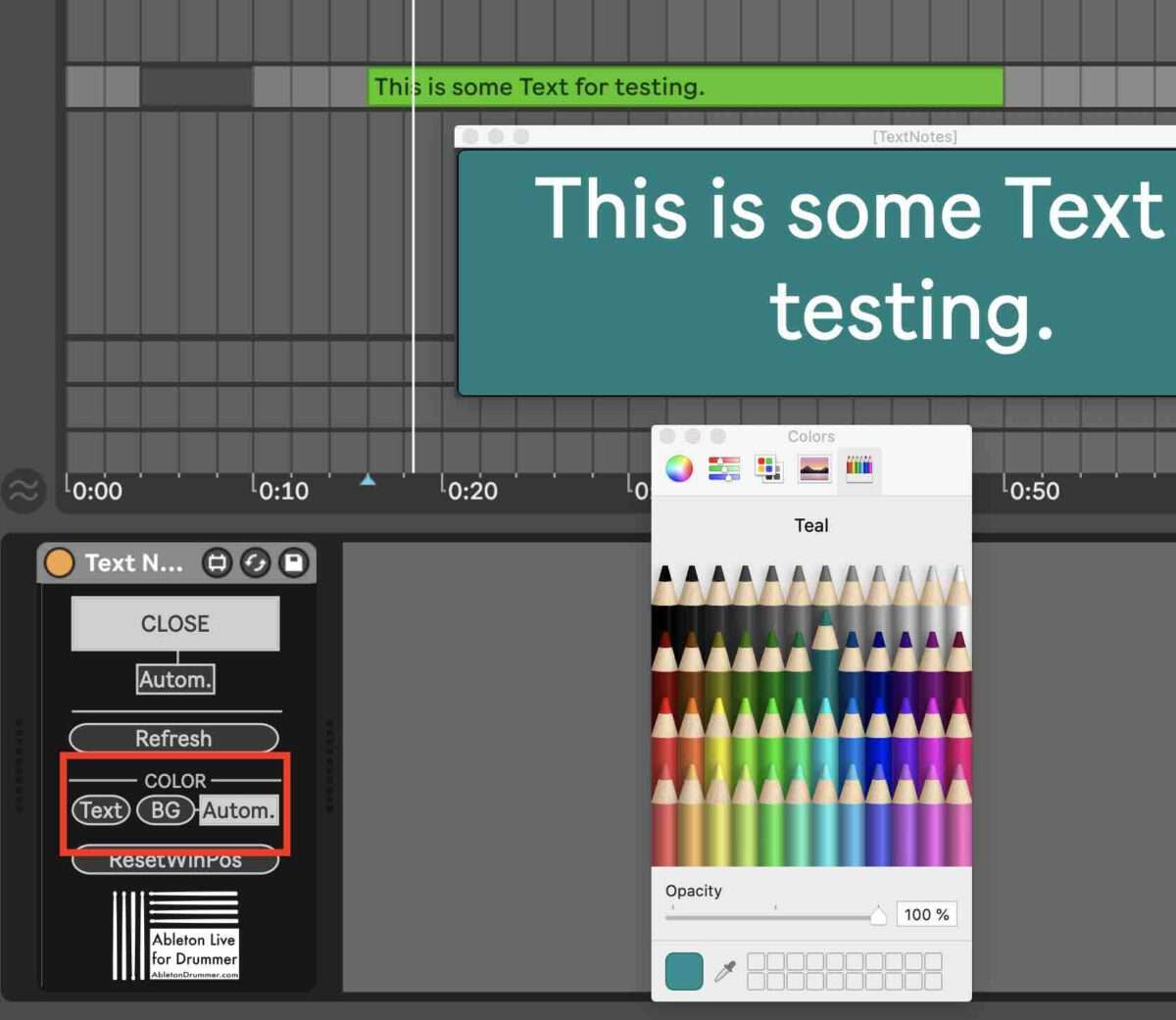 ---