Updated to Version 2!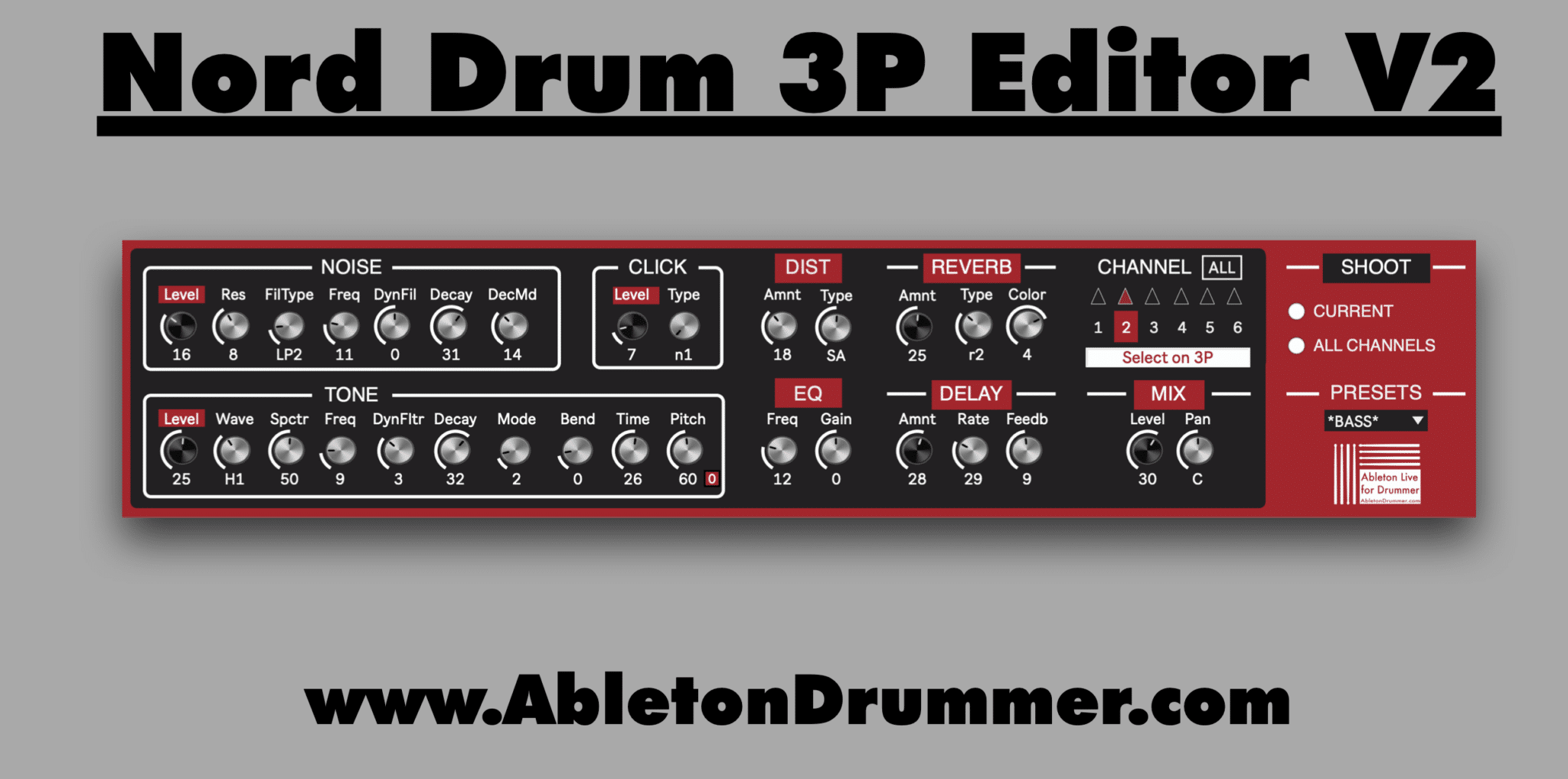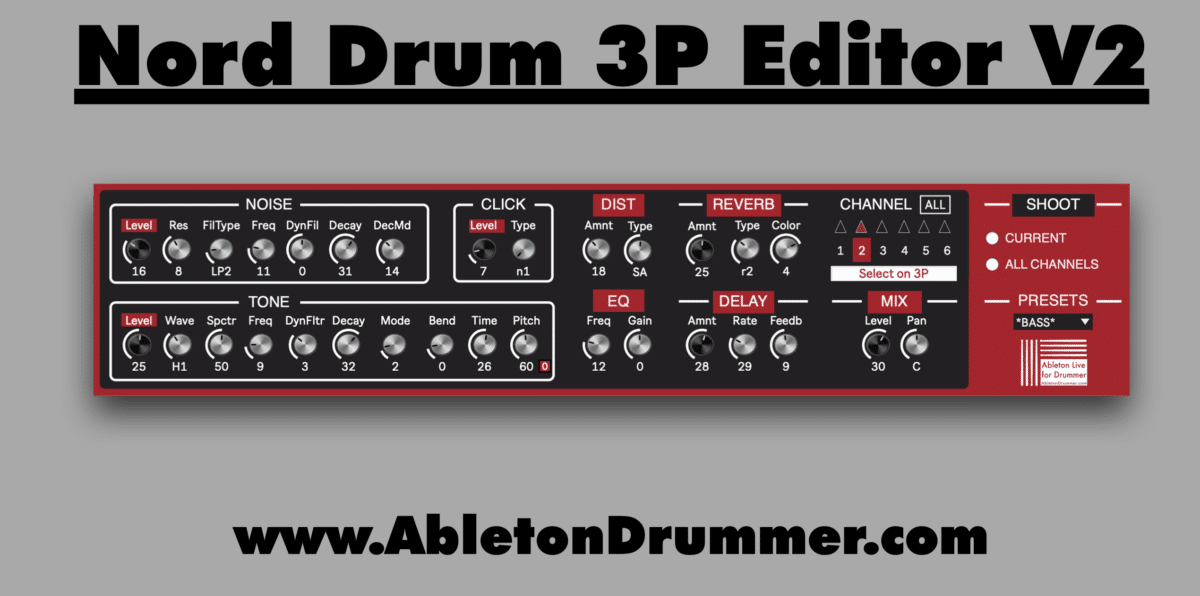 History of the Nord Drum 3P Editor for Ableton Live
I released an editor for the Nord Drum 3P back in late 2017 as one of my first Max for Live devices. As this was one of my first devices I obviously didn't make everything as nice and clean and didn't put in features which are now kind of my standard to do so. Things like:
CLEAN CONCEPT AND OVERVIEW OF ALL LAYERS/PADS/CHANNELS
ABLETON PUSH CONTROL
CLEAN AUTOMATION NAMING
NAMING AND HELP VIEW CONTENT
A PROPER MANUAL
INSTRUCTIONAL VIDEOS
CLEAN PRESET STORAGE VIA ABLETON LIVES BROWSER
etc.
So it was time to re-do this and it took longer then expected (as always).
SO HERE IS VERSION 2.
---
I love the Clavias Nord Drum 3P, it has a big range of possibilities to create sounds, great presets and it's just fun to play with them and very inspiring not only flicking through samples but being able to alter every parameter of the sound. A friend introduced me to the 3P, as he is really into hardware synths and being able to use MIDI from a centralized source e.g. Ableton Live to change sound settings and parameters. I was hooked to this concept as soon as he showed me but I was struggling to understand the sound and effects engine and structure from the Nord Drum 3P and I felt that only having one wheel to contol all those parameters with all the select and shift-select buttons was kind of in the way and stopping the flow I was in when I was creating sounds on it.
---
PLEASE CHECK OUT MY ONLINE COURSES FOR ALL THINGS ABLETON LIVE AND DRUMMING AND MY 1-on-1 ONLINE TEACHING SERVICES
---
VIDEO RUN THROUGH AND TUTORIAL FOR THE DEVICE:
Presets
You are able to access over 100 single drum presets directly via the editor PLUS you can access 10 full kit presets I designed. You are able to save and re-call your own presets via the Ableton Live browser.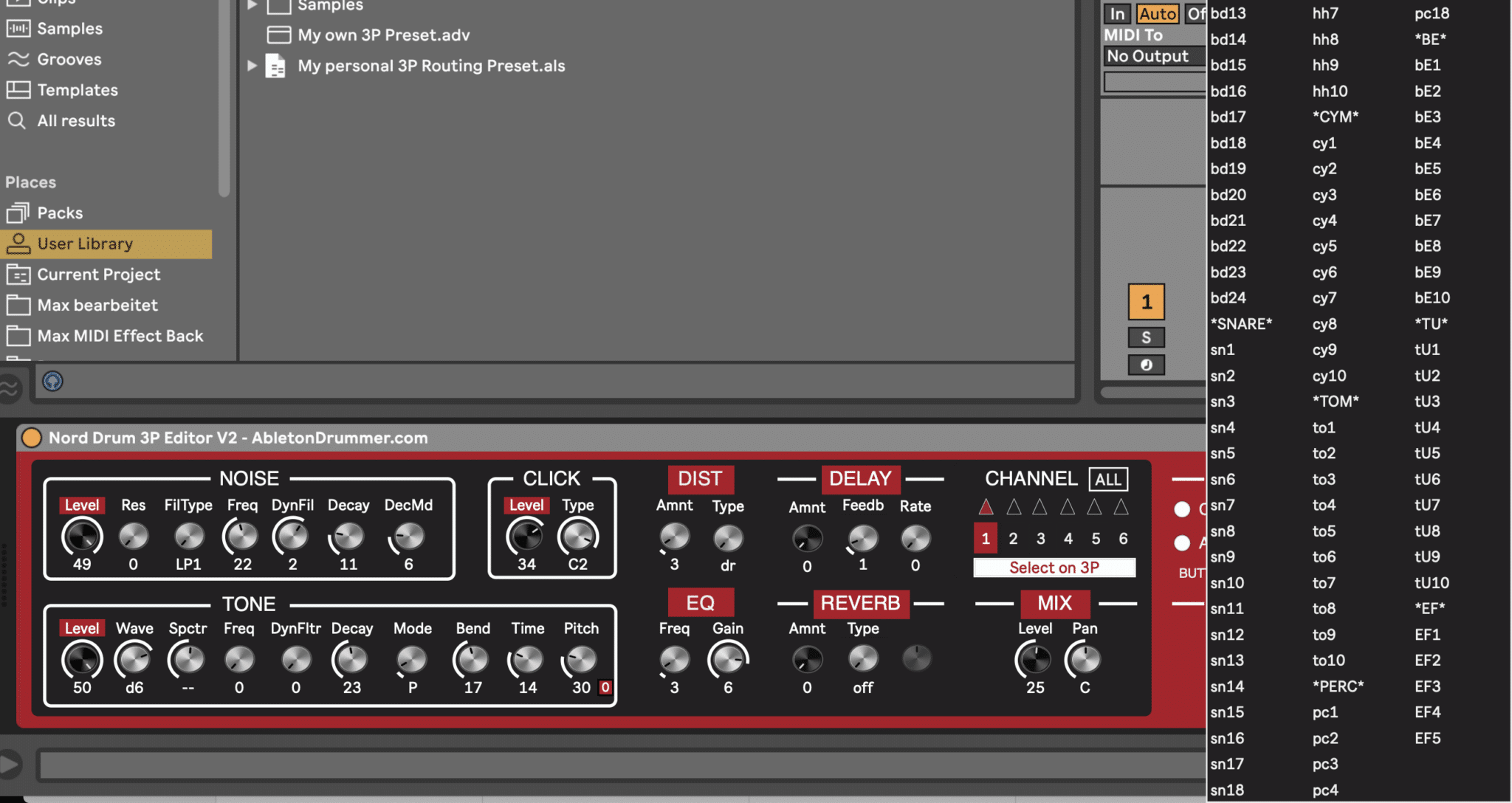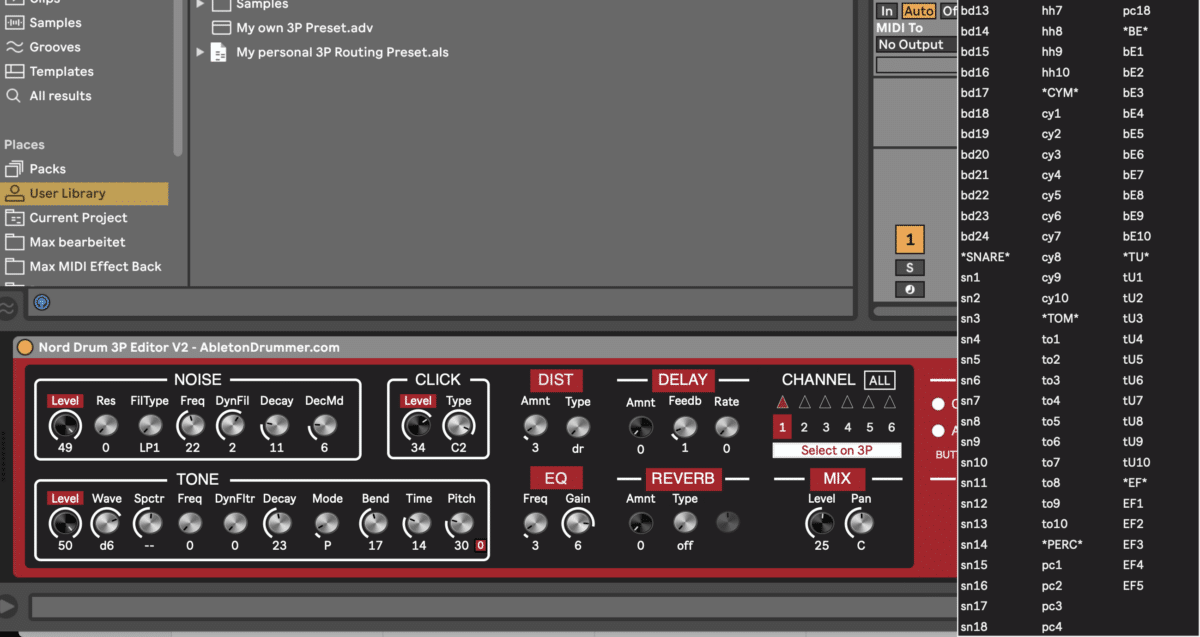 PUSH and MIDI mapping and automation
You can MIDI map all the wheels and menus, this way you can use other MIDI controllers to change the sound and what is opening up a new level of use her: YOU CAN AUTOMATE SOUND CHANGES e.g. only a few parameters or even changing to a completely different sound preset – that means if you are playing live and want the sound to change when you start a new scene in Ableton Live, you just need to write or record this into a MIDI clip.
How to start and set up the Nord Drum 3P Editor in Ableton Live
First of all you need to create a MIDI connection from your computer to your 3P – this would work for both direction, so the editor M4L device is able to receive changes of the parameters made by hand on your 3P as well BUT this really only works for changes actually made BY HAND(!).
The 3P speaks and listens on 7 different MIDI channels – so setting this all up is a little complex at the beginning BUT:
settings just need to be set up once – and then can be stored as a preset and recalled into any Ableton Live set.
I wrote a MANUAL – which you can DOWNLOAD HERE and I did a video tutorial which should get you started:
---