The SPD SX PRO Sampling Pad is an update on the Roland SPD-SX which has been around for quite a while now and is one of the most seen sampling pads on stages around the globe. I had a little look on what is new and want to make a quick consumption on the new features. The big question of course: Is it worth getting it for 'Ableton Drummers'?
Design and Sampling Updates of the SPD SX Pro
LED Lights for pads
The SPD-SX Pro has some flashing LEDs which looks very similar to the Alesis Strike Multipad. In a live performance situation visual feedback is great and sometimes even crucial.
Sampler capabilities
Roland re-vamped the sampling capabilities. Routing and linking multiple pads, 2 layered sample slots, more sound effects, slower loading time when changing kits. The SPD-SX Pro has an unbuild coloured LED display to edit everything. The display can show all the names of the samples loaded as well. You can now assign two samples to one pad and apply some velocity split. Unfortunately you can't change the tempo of loops and backings tracks you loaded into the SPD-SX Pro.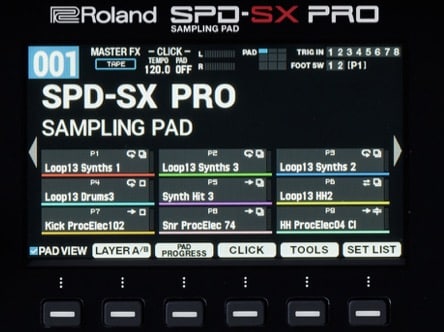 Software Editor for the SPD SX Pro
There is a an Editor App available via the Roland Cloud for windows and MAC OS. This helps you to get your samples and loops loaded on the SPD SX Pro. The factory Wave Editor for the older SPD SX didn't get that famous for being user friendly so it wasn't that difficult to put out an app that is better. I think there still is space for improvement on the Editor App but I wouldn't expect that Roland will invest in further development. The SPD-SX Pro requires 48 kHz/16-Bit samples. You can use the software editor convert audio files into that format. You can store up to 32 GB on the SPD-SX Pro.
What is new and interesting for Ableton Drummers?
When it comes to use an SPD-SX with Ableton Live most drummers only use the SPD-SX as a MIDI controller and as an external audio interface. So the whole sampling and audio effect business is not that relevant for this use case. Roland added some exciting things for MIDI and hybrid drummers as well.
If you want find out more about all possible use cases for using an SPD-SX in conjunction with Ableton Live then have a look on this here.
Added Audio outputs and advanced channel mixing
The SPD-SX Pro has 2 Mono Master outputs and 4 additional Mono outputs. If you use the SPD-SX Pro as an external audio interface you will be able to address those outputs separately via Ableton Live like this is possible already with a Roland TM-6 Pro (affiliate Link). IF I get the descriptions in the manual right you don't get 2 separate channels for the headphones out which means you would need to use 2 of those 6 outs mentioned before. You will get 2 more virtual audio channels. ( "The audio that's output from USB audio channels 7 and 8 is the audio input from AUDIO IN." )
Overall this is an overdue update on the external sound card options here. Just routing a click track from Ableton Live to your headphones only on the older SPD-SX is only possible via this hack.
More Trigger Inputs + HH Control Input
The SPD-SX Pro has 8 Mono/4 Stereo external trigger inputs and a HH control pedal input. Again this was overdue compared to other options available on the market. 8 Mono trigger should be enough for most use cases. The HH Control Input can be used for sending a MIDI CC message. This means if connected to Ableton Live or any Drum VST like Superior Drummer you can control the selection of samples for HH Open and Close via this input.
Any News for MIDI on the SPD-SX Pro?
Well, it doesn't look like there only some to say about that. After having a quick look in the manual I don't see that much what has changed here so far. Unfortunately. I am sure there are some smaller improvements which will allow for some hacks but I haven't watched anything real new concepts here so far.
My view on the new SPD-SX Pro
I am sure this unit is a great tool for drummers, who don't want to use a computer to play their loops and samples. I have to say that the price is, well 'Roland like' and currently listed at Thomann for 1199 Euros (affiliate Link). The advantages for software, MIDI and Ableton Drummers I see in this unit are the HH control input, the higher number of external trigger inputs and the advantage to be able to route the audio outs to 6 separate balanced audio outputs. The LED pad lights can become very handy as well.
BUT overall at this price point I guess that most 'Ableton Drummer' are more likely to invest in other hardware. You just need (quick + reliable) MIDI and you don't need all the sampling capabilities. The SPD-SX Pro is made for drummers who don't want to store and play their samples and sounds via Ableton Live.